Whether you've got a large office building or a small one-business building, having an automatic defibrillator on hand can be a life saver – literally. You may be used to seeing these devices in airports and other busy, populated areas, but that doesn't mean that a small office is OK without one. Health emergencies can happen anywhere, and the best line of defense is preparation.
Some of the environments that can benefit from having an AED include:
Nursing homes
Personal residences
Office buildings / corporate offices
Convenience stores
Retail stores and shopping centers
Restaurants
Casinos
Hotels / Motels
Sports arenas
Schools and Universities
Gyms and other athletic establishments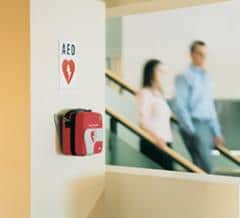 Average response rates for emergency vehicles are over eight minutes, and an automatic defibrillator allows you to use that time to your best advantage. Easy to use, even for the untrained person, an AED is designed to provide professional help for nonprofessional users.
For more information on getting an automatic defibrillator from AED brands, call or e-mail us today.
Back to AED Education Articles