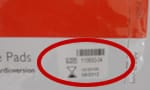 Attention! AED PADS EXPIRE
Stay In Compliance. Replace your pads prior to expiration.
Select your FR2 AED pads below to purchase.
---
The FR2 rechargeable battery is a good alternative for professional responders who may use the FR2+ AED frequently. The M3849A charger (not included) will provide a full charge in just 3 hours. The FR2+ rechargeable battery can provide up to 100 shocks or about 5 hours of patient monitoring. The battery will typically last for 300 charge-discharge cycles or 2.5 years of use.
Please Note:
For use with the FR2+ only.
Requires charger part # M3849A
FR2+ AEDs purchased before December 2001 must be upgraded before the rechargeable battery can be used.