Can Anybody Purchase an AED?
If you want to buy an AED (Automatic External Defibrillator), you need to follow some rules set by the FDA (Food and Drug Administration). This means you'll need to get a prescription before you can buy one. If you want to have more than one AED, each one needs its own doctor's note. The only exception is the Philips Heartstart OnSite AED, which doesn't need a doctor's note for personal use, but if you use it for something else (like at work), you still need a note.
An AED prescription is not like a regular medicine prescription. You don't need to be sick to get one. The reason for the note is to make sure the AED is labeled properly and taken care of responsibly.
So you're interested in purchasing an Automated External Defibrillator. That's awesome! Educating yourself on the benefits of an AED is the first step in ensuring your building is #HeartSafe and ready in the event of a Sudden Cardiac Arrest.
Did you know that over 250,000 people a year in the United States die from SCA alone? Or even more shockingly, only 2% of SCA events outside of the hospital will have a defibrillator used by bystanders? That is a very important point to make and it leads us right into one of the things you should consider when purchasing an AED.
6. Where should I place an AED?
Like with real estate, location is everything for an AED device. After all, what good is an AED Machine if it is far away from where people gather or locked up in a closet? AEDs need to be easily accessible and somewhere that can be retrieved and brought back to a victim within 60 seconds. If minutes go by before the device can be retrieved, the odds of survival will significantly decrease. Studies have shown that the survival rate declines roughly 10% for every minute that passes before an AED is used during SCA.
Whether it is a school, a restaurant, a mall, a place of worship, or anywhere that people congregate, the rule of thumb is to keep an AED where it can be accessed and retrieved in less than a minute (this also helps you determine how many AEDs you will need in total).
AED Brands offers comprehensive site assessments and program management to help you and your program cover all the bases. 
5. Some AEDs have 'CPR Feedback'. What is it and do I need it?
Newer AED devices now feature some sort of CPR feedback or CPR coaching to help lay responders or bystanders deliver high-quality CPR. Devices like the ZOLL AED Plus will let the responder know how their CPR compressions are and give feedback in real time. It can detect whether a responder is pushing too fast, too slow, too hard or too soft. While these differences may seem minuscule, they actually make a huge impact on blood circulation and keep oxygen-rich blood flowing to the brain.
A 2013 Study conducted by the University of Arizona found that improved CPR vastly improved the chances of survival for an SCA victim.
4. What are Automatic vs Semi-Automatic AEDs?
This is a very important point that revolves around how a device delivers a shock. An automatic device takes most of the action out of the responder's hands whereas a semi-automatic device requires the responder to take another step. After placing the electrode pads on the victim's chest, the device will detect whether or not a shock is advised.
An Automatic AED will automatically deliver a shock whereas the semi-automatic will instruct the responder to press a button to deliver a shock. It is important to note that a device will not allow a shock to be delivered if it does not detect arrhythmia, meaning you cannot accidentally shock someone who does not have SCA.
We recommend reading more about the SCA Chain of Survival to help better address this aspect.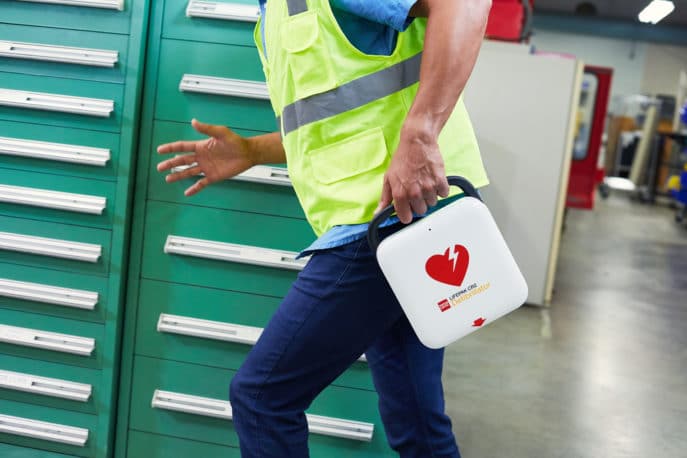 3. Does my state require an AED at my location?
All fifty states have enacted laws and/or regulations requiring that public gathering places have AEDs available. The intent of these laws and regulations are so sudden cardiac death or neurological damage will not be the end result in any of these attacks.
Typical regulations include the number of AEDs your location must have depending on capacity or average attendee risk factors. Maintenance and or planning may also be regulated. To learn more, visit our AED State Laws Center. 
2. After I purchase an AED, what maintenance costs can I expect?
In most cases, AED maintenance is as simple as replacing the pads and batteries when necessary. For more devices, the pads must be replaced every two years or after use during an SCA. For batteries, most types must be replaced every four years. The cost varies for AED Pads and AED Batteries depending on which device you select. Most batteries cost between $150-$400 where adult AED Pads cost around $50-120 depending on the device.
Infant/Child pads are also an important factor to consider as those normally are priced slightly higher than adult AED Pads.
1. Where can I buy an AED?
If you are ready to purchase an AED, you can purchase a device online at AED Brands. If you are more comfortable with speaking with someone over the phone, please call our no-wait customer service team at 866-450-9906.
Bonus – Use the AED Brands Buyer's Guide Tool!
Visit our Buyer's Guide and use our interactive tool to help you determine which AED best addresses your needs.
You're all done! See your recommended AED's below.
Would you like these results sent to your email?
If so, just fill our your email address below and submit.
Which is the best AED for my needs?
Let us help you identify the best options using our tool, Zappy!