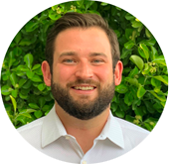 I was born and raised in the "City of Brotherly Love", I ventured out to Central PA to study Kinesiology at Bloomsburg University. I now call the Philadelphia suburb of Conshohocken home with my partner in crime, my amazing wife Liz.
Since my earliest memories I have obsessed over all things Philadelphia sports, and I do not see that changing anytime soon, GO BIRDS! In my free time I love to travel the world and explore cultures much different than my own. I enjoy playing golf (albeit not very well), cooking for friends and family, and hitting the beach and getting as much R&R as possible.
I am excited beyond words for the opportunity to be a part of the AED Brands team. An organization with such amazing people and honest company values does not come around every day, and I feel blessed to have been brought on. I look forward to living out the AED Brands motto "We're In It For Life" each day while working to keep my community safe.