Order Fulfillment/AED Technician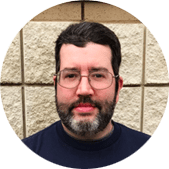 I was born in Illinois, but I've lived in Georgia for the better part of my life. When I was 18, I joined the U.S. Army and I'm proud to be a Gulf War Veteran. I'm married to my best friend and we have 4 children. Being a father is my biggest passion. My journey with AED Brands has been great and I enjoy knowing that I'm providing people with life-saving products.
In my free time, I enjoy playing video games, watching horror movies, and football (GO BEARS!!!). I also like to read Stephen King's novels .